Am back in the saddle. Oh yeah.

Well, got back from our Bora trip a few days back. It was a blast. I've been going to Boracay every year, just missing it thrice, since 1996. But this trip was over the top. I mean, I was in Boracay, with some of my closest girl friends, I was miles away from all the confusion and loneliness... that was the life.

It was all good naman. We went parasailing. Too bad I didn't take the cam with me sa taas. It was so quiet and peaceful up there. I could almost hear what Mayette was thinking. While we were up there, I took the time to pray
. I mean, I was so close to heaven, I might as well grab the opportunity to whisper in His ear, right? Sobra yun. I'd definitely go parasailing again. Mayette and I were praying na sana magkaroon ng waves so we can surf sa Bora, but fat chance.
Oh well.


Cocomanga's was always packed with people. It was soooo hot inside that we were literally sweating. It was really great dancing with the girls again. The only thing that really irritated me, well, all of us, was that the dj was just playing around 20 songs (okay, okay, exagg 'to mga 25 naman siguro...) and then repeating everything.
No kidding. AND I think he doesn't even know how to mix because the previous song would just end and then the next song would start. Play, pause, play. Argh.
The 3rd night we stayed in Café Cocomanga's across from the Cocomanga's party bar. Chilled out for awhile then proceeded to Pier One, where I got plushed
with all the rhum cokes, beer, and slammer. I was supposed to take the 9:20am Sunday flight home. But I had too much to drink the night before that I wasn't in the correct frame of mind to fix my things and go home. Michelle had to call the airline to book me a flight home for Monday. Susme. Hayup na slammer yan. Leche.
Sorry, I'm just
typing away. Just the random thoughts taking over the keys.
Anyway, I also brought my Kokology
with me. When we arrived Thursday morning in Bora, we ate an early lunch (around 10:30am). While the others rested/slept, Aira, April, and Say played with the book. After a few minutes, Mayette joined us and then Tricia as well. *Kokology is a book about self-discovery. There are different scenarios and then there are options which you can choose from and then whatever option you choose has a meaning which could be something about your personality, love life, sexual desires, family values, etc. Good book. Buy it.* It was fun re-discovering things about each other. Almost all of the answers hit home for all of us. Sakto.
Huwaw talaga.

And can you believe that we have 280 pictures?! Again, can you say cam-crazy 10x?! We filled the 128 memory card, and then the 10MB internal memory. Sheesh. If you guys want to view the pics, it's in my Multiply account (if you know my real name, you won't have a difficult time finding it).
Did my shopping early, Saturday morning. I know, ang aga. But, I wasn't really shopping for pasalubong. I just bought a few earrings, a red blue white capiz curtain, lots of long beads. Of course, the magnets. Also, I had to buy a few clothes for the next couple of days. When I travel, I don't bring a lot of clothes. I just pack 3 shirts and then the essentials and then I'll just buy a few shirts/blouses kung saan man ako pupunta. I don't really like lugging around a huge bag. Aira or was it April who said, 'Parang wala kang dala sa backpack mo, parang ang gaan…' Hehehe. Magaan talaga siya. Traveling to different parts of the country for a good 5 years has taught me a lot... in packing my things.
Lots of great talk, great food, good music, good grooves.
Oh yes, the grooves.

I feel a little dazed that I'm back in the midst of all the confusion and hurt.
This is so frustrating.



Lord, please, don't let me be stuck in a moment. I'm trying to let go, but please, please sweet Jesus, catch me.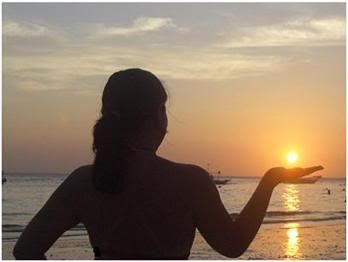 Beach me still. Please...