Alas, internet connection!

Using my old yet trusty laptop again. Five years old and counting. Seems like I'd be using this beauty for a longer time. My monitor is still busted but, now that I have dsl in my laptop, having it fixed or buying a new LCD monitor is not really a priority.
Dang. I forgot to upload my comments regardign that rabbi and breasts thingie. Will do that tomorrow or before the week ends.

********

My head hurts. Hangover sucks. Grr.

Watched the championship game last night between Teletech and eTel at the Metro Gym. Sadly, we lost. But it was a good game, kulang lang talaga. After the game I did some errands. While having some jewelry fixed at Shang some guys from the basketball team texted me they were in Pier 1 in the Fort area 'celebrating.' When I arrived at Pier 1 the closed area was full of eTel people, upper management and operations people. Mejo overwhelmed ako. Haha. Ang daming tao kaya ang saya! The beer was overflowing and so was the food. Went home at around 1am and the place was still packed.

Now, a hangover. Peste. Hehe.

*********

A good friend of mine will be leaving soon for Australia on September 16. His girfriend, also our good friend, is already in Aus and I know how much he's missed her. And I'm certainly happy they'll be together again after 6 months of being separated from each other.

He hasn't left yet but I miss him already. He's given me a lot of great advices and a lot of pep talks. Though he's two years younger, his views and way of thinking go beyond minds of men his age. He's been a dependable companion for some time now and I'm having a hard time accepting the fact he'll be leaving soon.

Aaawwww. Pak.

What I need to do now is save some more so I can attend their wedding in Australia.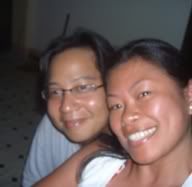 Dino!!! I know you'll be able to read this. Sobrang miss na kita, bro. :'(
*********
I need to beach myself soon. A lot of changes, all at the same time. It's quite confusing. Hmm.
Well, kailan ba umayos ang buhay ko?!
Couldn't stop myself from viewing the Panglao pictures. I can't wait to go back and just relax. My trip to Panglao was truly a hassle-free experience: no fuss, no hang-ups, no pressure, no stress. Just what a vacation should be.
*********
Handling 'depression' well. Might be out of it, really. With 3
pamangkins
in tow every Saturday and having them in my room for play/video/nap time everyday, there isn't any time to be depressed! Too busy hugging, cajoling, reading, cursing under my breath, getting milk, pinching cheeks/butts, changing videos, cursing under my breath, kissing, hugging again, reprimanding... oh, you get the picture.
I've been contemplating of getting a place of my own, but the thought of being away from those kids just breaks my heart. So for now, I'm staying.
Oh my
pamangkins
, my saviors.
Literally.