Might as well join the bandwagon and post here my Christmas wish list.
But, really, just have nothing to do this 10 something am.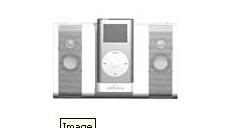 1.
iNMotion speakers by Altec Lansing
for my iPod mini. Ever since I bought my sweet mini, I've been buying accessories for it like it was child wanting toys...ay, ako pala yun. Hahaha. Bought a leather case, new earphones, iSkins in different colors...grrrr. Ang saya! The speakers will really top it off! Really good for those chilling-out nights in the beach.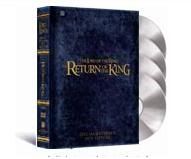 2.
LOTR: RoTK DVD Extended Edition.
Can't wait for this one, had one pre-ordered in this small video shop in Park Square. It will be available by December 14 (daw...ack...sana naman). My sister-in-law's Christmas gift last year were premiere tickets to RoTK. Sana ngayon yung EE DVD naman! Mwehehehe. Once I get it, I'm going to put out the projector and speakers, buy some really good chichiria and drinks (both the wholesome and bad-spirited kinds), turn down the blinds, and have some friends over for a marathon LOTR EE DVD movie-watching experience! I have estimated the time it will take up...Three 3-hour and something movies...nearly
10 hours of Legolas, Faramir, and Eomer. Oh yeah.
3.
To finish building resthouse in Tanay for my Mom.
All we have now is a small hut and several hammocks hanging under the mango trees. My mom bought the land because it was Dad's wish that we have like a resthouse somewhere near. Tanay is like Baguio. Fresh air, cool breeze throughout the day, cold nights, great sunrises and sunsets.
Basta, for my Mom. For her happiness and good life.

4.
New books
to read. I love going to BookSale. I was really disappointed that someone never gave back my Woman of Substance (Barbara Taylor Bradfor). But really ecstatic that I found a battered but good copy in BookSale in SM Bicutan for just Php50! Aaaaack. (I know, some of you may be asking kung anong ginagawa ko sa malayong lugar na yun...Hahahaha...quiet friends...ssshhhh...). I've missed out on new John Grisham books, and I would really like to buy them but the prices are so ridiculous nowadays. I'm also looking for books on Mythology. My Edith Hamilton Mythology book is by far the best book I've read about mythology. Want more, more, more. :)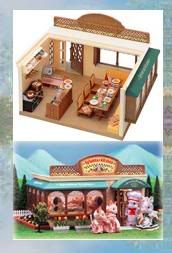 5. New additions to my
Sylvannian Families
collection. I'd love to have the Pizza Store and Restaurant. (Must go to to Japan...) I'm a kid at heart. Never outgrew my love for toys :)
6. For my sister ate to be really, truly happy.
7. For my kuya dear to fully attain his dream.
8. For my nephews, soon-to-be 7-year old Dominic and 3-year old Raymund to grow up as the good men they should be.
9. For my niece Regeena to be a better dancer than I am. Bwehehehe. But true.
10. For my friends, acquaintances, and so on; more years of get-togethers and inumans, chilling-out days and nights, beach trips, out-of-towns, out-of-country escapades, small talks, deep thoughts, and revelations. Whew.
11. A 2-week long beach trip to Bali, Indonesia. Damn. Or a 2-month long backpack trip through Europe.
12. Get my Masteral Degree. Grrrr.
13.
WORLD PEACE.
Of course, my wishes for my family will take precedence over everything else. Wish I felt Christmas-y.