In my entry yesterday, I posted that I wasn't able to go to Raffy's gig in BF, and since he made my Thursday afternoon hell by texting me all sort of things and making me guilty, I made a promise to go with him to his gig last night, Maundy Thursday, at
BED
in Malate. Met up with him at around 12mn at Bryan's place in Kamagong. When I arrived Raffy, Kuya Adi (Bryan's older bro), and Tito Greg (the Malantic bros daddy groovy) were watching 24 season 2. Since Raffy will not be spinning until 2am, we watched and made tambay muna until 1:30am. Before 2am, we were in Malate.
It was deserted: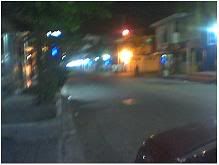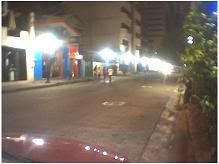 Well, of course, what did I expect on a Maundy Thursday, right? Geez. Anyway, went inside BED and it was full. The Malate people were already inside. And, may I say, that I felt absolutely safe inside. It was full of queers. Don't get me wrong, I love my gay friends and gay people in general: stylish, go-getters, creative geniuses.
Now, girls, heave a sigh and just think: If only they were real men. Dammit.
Anyway, the place was cozy, much like Government, but a little bit smaller. And I loved the love seats. Stupid me didn't take a pic but it was really uber cool. It was like they bored a big hole in the wall, padded it with really nice, red leather cushions. It was wide enough to have 2 people lie side by side. The ultimate making-out seat. Now if they'll just install a curtain... hmm...
Got some beers from the bar, of course, complimentary, 3 drinks each kami ni Bogus. Yay! Met DJ Toy Armada, who is really really cute but gay :( He was dishing out vocal house mixes which the gay crowd absolutely loved. Have I ever mentioned that gay people are such good dancers? Grabe. Crazy.
By 2:30am, it was Raffy's turn. He just played for an hour because, after all, it was Good Friday. People were going home na rin.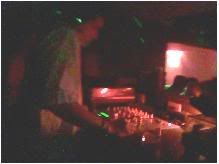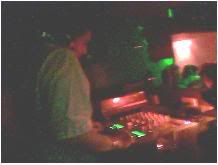 After his BED gig, iinom pa sana kami but then we decided to just take a road trip The Fort. Paikot-ikot, smoking, while discussing major issues in our lives. Talking about his future as a dad and husband, talking about my realizations about men and marriage. Now, debates between us are expected. It's part of being friends, I guess. Hindi kumpleto ang pag-bonding namin kung walang debate. Raffy is one of the few people who know everything about me and vice versa, kaya alam niya paano ako sagutin, ganun din ako sa kanya. I'm one of the 3 girls he calls his 'bombo radyo angels', and he is our 'pimp daddy'. He was the first one to know na single nako ulit after 6 years and the hell I've been through, and I was the first to know that he was going to be a dad and the hell he's been through as well. Haaay.
You wouldn't want to know the things I would go through for my friends.
When we were waiting outside my house for me to be let in, I gave him a short speech. I told him: I know that he is happy and kung saan siya masaya, suporta lang ako sa kanya. I may not always agree with his decisions and choices (girls, love, life in general), and I may get angry and be insensitive at times, pero, sino ba naman ang magdadamayan kungdi kaming mga magkakaibigan.
All of us have been friends for over 10 years now and we've taken the friendship to a whole new level. We're like family.
Come to think of it, we are family.